Payer contracts are a vital part of the healthcare system. They impact everything from reimbursement rates to provider credentialing. With the right information, organizations can negotiate great payer contracts and generate more revenue throughout the year.
To thrive in today's evolving health care landscape, network physicians must be well informed about the managed care agreements governing their payer relationships. Not only is it critical to understand whether the practice is being reimbursed adequately for services, it is just as important to be sure the contract language is reciprocal and affords the practice protection over processes and changes to the agreement over time.
Physicians and provider organizations need to understand how every payer fits into their revenue mix, paying particularly close attention to those contracts that represent the majority of your income and how your practice fits into a payer's coverage area.
Securing a copy of any proposal well in advance of negotiations and entering proposed fee schedules into the CodeToolz Contract Analyzer makes it easy to determine the financial impact, payer by payer.
It's easier to ask for 3% more each year than 9% more every three years. Presenting data on the current contract and modeling the proposed contract will help you make the case for the reimbursement that you expect in a counterproposal.
ACCURATE CONTRACT MODELING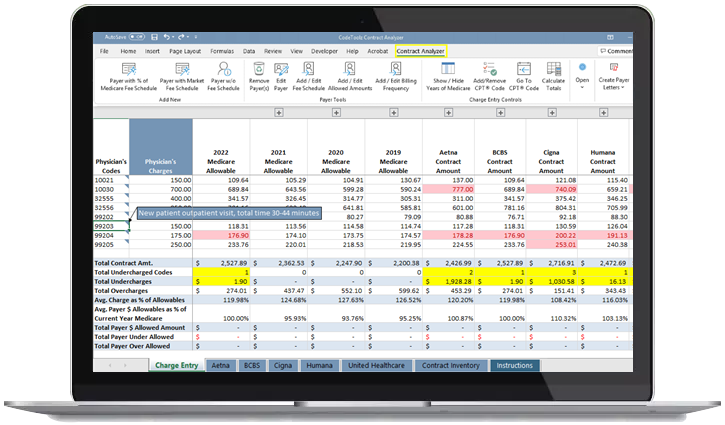 Managing and modeling contracts need not be burdensome or time-consuming, and using the right tools can help you better manage contracts across your organization. The process starts with having the right data, then using a robust contract management tool that can model "what-if" scenarios to present an accurate reimbursement picture.
During the contract period, the same tool can ensure that contract terms are met and proper reimbursement is received. Contract modeling and analytics helps organizations predict and manage a data-driven approach for improved payer negotiations and maximizing your payer revenue.
5 STEPS TO BETTER PAYER CONTRACT NEGOTIATIONS
Utilize General Negotiation Best Practices
Perform a SWOT Analysis of the Practice
Gather Data
Develop a Payer Contact Matrix
Develop the Payer Contract Negotiation Goals, Priorities and Plan
Providers who utilize these 5 steps before and during negotiations gain a critical understanding of their practices, giving them the confidence and knowledge that they have the best payer fee schedules possible. Knowing which payers are driving the most volume and examining contracts to ensure they are reimbursing adequately and protecting the practice are extremely important. Those providers who embrace these principles will be well equipped to meet the challenges of the evolving payer landscape, helping ensure the long-term viability of their practices.
SUMMARY
In this article we have provided an outline for managing payer contracts effectively and negotiating a payer contract. For small practices with limited time and resources, it may not be possible to do everything to the degree we have suggested. However, we believe it is still essential that even solo practices follow the same five steps and do as much as possible for each step to put yourself in the best position possible to gain meaningful results.
LACKING TIME AND RESOURCES?
Our roots in payer contracting run deep, making CodeToolz one of the most effective payer contracting and reimbursement firms in the country.
Our Payer Contract Review and Rate Negotiation Services include:
Comprehensive contract review.
Contract language analysis to ensure optimal terms for physicians.
Utilization and payment analysis by payer to compare reimbursements.
Working with payers to raise reimbursement rates.
Preparation of competitive fee schedule analysis to support optimal rates.
Market analysis to present comprehensive proposal to payers.
Negotiate participation in additional payer plans in any given market.
Once our team has a clear understanding of what your payer contract contains, we identify strengths, weaknesses, and improvement opportunities and review them with you. View: Sample Contract Analysis